1999 – 2023 and beyond
Established in 1999 and still going strong, every March the Mangawhai Walking Weekend invites walkers to the goldern north to explore more of our mangical town
Walking Weekend Trust Formed in 2015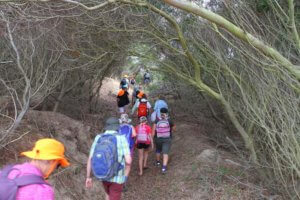 2015 saw several changes to the Walking Weekend as it was put on a more permanent footing, with a Mangawhai Walking Weekend Charitable Trust as the organising body.
Funds raised from the weekend primarily go towards the Mangawhai Tracks Charitable Trust, the group responsible for the tracks planning, maintenance and building programme. This team of local volunteers work every Friday on the tracks projects.
In 1999 the Mangawhai Walking Weekend was founded, organised and run by Jean Goldschmidt.
"Jean developed and ran the very successful weekend since 1999, almost single handedly!"
Jean would not agree with this statement but without her dedication, determination and foresight this weekend would not have evolved.
The local community have had tremendous input, with approx 150 volunteers turning out each year as enthusiastic guides and tail end charlies!
This is unique as all walkers treated to a guide with local knowledge and a passion for their walk. Some walks are only accessible during the weekend as they are on local private land so it is a rare treat indeed.