Magical Mangawhai
The magical seaside resort of Mangawhai is only 80mins north of Auckland and 50mins south of Whangarei. Discover this special New Zealand Coast via Twin Coast Discovery Highway through Mangawhai, Langs Beach and Waipu.
Accommodation
Mangawhai has a variety of beautiful places to stay that include Bed and Breakfasts, chalets, cottages, serviced flats and rental houses. To book your weekend accommodation take at look at www.mangawhai.co.nz
Golf
Located less than 90 minutes north of Auckland's CBD, the Mangawhai course has consistently been regarded as one of the best in New Zealand. In 2015 Mangawhai was ranked 7th among the top courses in New Zealand by a panel of NZPGA Professionals, Golf Travel operators and club golfers. Many of our visitors, local and international, consider it more than deserves this ranking! Bookings are essential over the holiday periods. Website
Tennis
Mangawhai Tennis Club has 6 all weather courts, with floodlight facilities. It is located at the Mangawhai Domain, next to the Domain Hall, at 75 Moir St, only 500 metres from the Village shops. There is a water fountain adjacent, and toilets are located nearby in the Hall Building. If you just want a casual game, use of the court and a key can also be arranged from Gasoline Alley Service (G.A.S,) Station in the Village on an hourly basis. This costs $10 per hour per court. Website
Cafes and Restaurants
Mangawhai offers an extensive selection of great cafes and restaurants in Mangawhai Village and Wood Street at The Heads.
Mangawhai Tavern and Bistro
The historic Mangawhai Tavern, established in 1865, is adjacent to the old port where the ships were loaded with the Kauri milled from the bush.The tavern has a colourful history as a watering hole for the kauri bushmen and port workers and each year it provides a stunning harbourside venue as the community celebrate Mangawhai's rich heritage. Right on the water, serving cold beer, chilled wine and mighty fine pub food! website
Mangawhai Artists
Mangawhai Art Gallery, established by community artists, adjacent to the Mangawhai Village Hall, Moir Street, has continually changing exhibitions. Website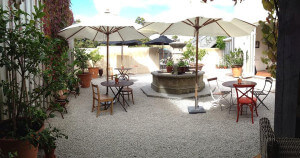 Pipi Gallery
Formerly Smashed Pipi Gallery, Mangawhai's popular and outstanding retail gallery of local and national artists. Website
Bennetts Chocolate Factory
Beautiful as the magnificent building is it is the chocolate that is the attraction. Ask about their latest award from their young French chocolatier. Website
Surf & Paddleboarding with Aotearoa Surf School
Whether you'd like to improve your skills or you've never been on a surfboard or paddle board before, our lessons are safe, fun and effective. Come with us on a stand up paddle cruise in and around the beautiful Mangawhai estuary or book a lesson… you'll get the paddle boarding bug! Hire options available. Website