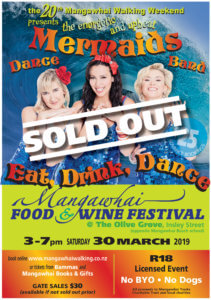 The Saturday of our Mangawhai Walking Weekend is an afternoon not to be missed…Mangawhai Food & Wine Festival has become the social highlight of the walking weekend.
After your walk, come and relax and unwind in the Olive Grove, find your spot under the olive trees, enjoy the late afternoon sun, gather with friends, be entertained by the fabulous Mermaids Dance Band, enjoy delicious food and local award winning wines.
Bookings open 4 January 2019
Saturday 3 -7 pm, The Olive Grove, Insley Street, Mangawhai Village, gates open 2.45pm
This is a licensed event – R18 (sorry no children, no BYO and no dogs please)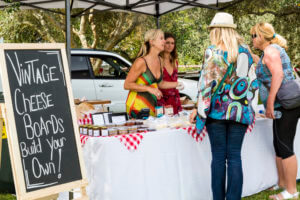 Proceeds from the Mangawhai Food & Wine Festival go to the Mangawhai Tracks Charitable Trust to build and maintain tracks and to other community groups.
Mangawhai Food & Wine Festival Shuttle Service
Leabourn Shuttle commences at Surf Club car park, Mangawhai Heads Camp Ground, Wood Street shops, Information Centre, Museum car park to venue, Insley Street. Shuttles will depart at 2.15 and every 15 minutes until 5.15 pm. Return shuttles will commence at 7 pm. Cost $5 per person each way. No bookings are required.