4 hrs return. Reasonable fitness required.
DOGS: not permitted on this walk, Kiwi Protected Zone and covers private property.
Track standard – well formed track then grass and farm road.
This is called the Missing Link because previously there was no access from Cove Road to Mangawhai Cliff Walk, and it also connects across to the Brynderwyn walks. Thanks to those who worked to make it happen!
Begin at the Mangawhai Heads Surf Beach car park (or reverse Direction)
Walk 15mins north up the beach to the beginning of the Mangawhai Cliff Top walk signs.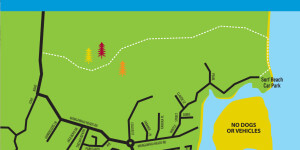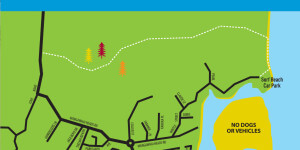 Walk the track for 45mins to the sign on the left.
Follow the signs through the small patch of bush, moving down the hill to the double gates. If coming from the other direction, at the gates look up to the left for the orange signs.
Although there is an easement, the track is on private land so please respect this.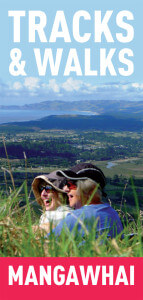 The next steep section following the fence line takes about an hour to climb to the stile then down the farm road (a public road maintained by the farmers) to Cove Road and a car park.
From here either return the same way, or cross the road to join the Langsview track and either go down the Tanekaha Forest or the Waterfall tracks where a pick-up is needed.