Tanekaha Loop Track 4-5 hrs
Good fitness required.
Tramping track so good boots/shoes needed.
Take first aid kit and phone. Absolutely NO DOGS – this is kiwi country
This track can be walked in either direction
This is a combination of three tracks which can be walked separately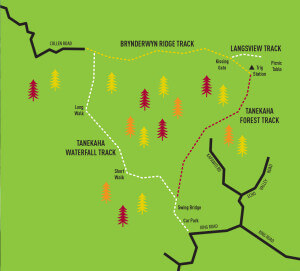 Tanekaha Waterfall Track 11⁄2-2hrs return (short)  or 3-4hrs return (long)
Brynderwyn Ridge Track 2hrs return if entering  from Cullen Road
Tanekaha Forest Track 2hrs return
Puriri Track – branches off the Falls Track
All are accessed from King Road, Mangawhai but Brynderwyn Ridge can also be accessed from Cullen Road.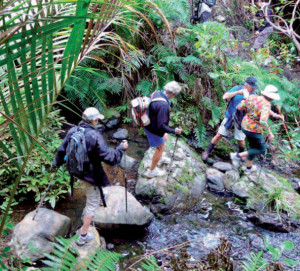 Drive to 300 King Road, Turn in and continue to the car park. Take the short walk to the stile. Climb over and continue around the fence-lined track to the swing bridge.
At the track signs take the Tanekaha Waterfall Track to the left following the true right of the stream. The first waterfall (45 mins) is the short walk.
Continue up the hill following the stream and waterfalls to the Brynderwyn ridge. This is the long waterfall walk (90 mins to two hours total). Note the kauri dam remains at the top of the steep section. Take care on the many stream crossings as boulders are slippery.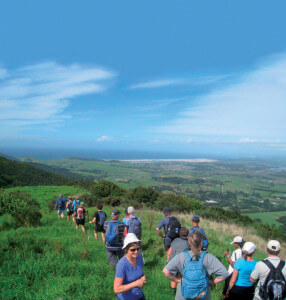 At the top, turn right and follow the bush-lined wide Brynderwyn Ridge track up and down hills for an hour. Do not go through the wooden "kissing gate". Many fungi can be seen on the rotting ponga fronds and on the track edge. Take care past the numerous predator traps along all tracks. At the trig, look right for the Tanekaha Forest Track sign.
Divert 5 minutes to the picnic table (private land, permission given). Follow the Forest Track down the hill to the bridge (60 Minutes).
These walks are regularly part of the Mangawhai Walking Weekend but are easy to access all year round.