Te Arai Unwrapped – Saturday & Sunday – Grade 3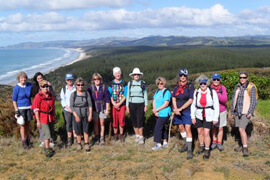 Treasures on our doorstep. Explore Te Arai, a relatively recent addition to the Auckland Regional Park network.
Starting from the Te Arai Point car park we head south over the headland capturing 360 degree panoramic views. We explore parts of the land purchased in 2008, home to highly sensitive dune lake ecosystems, wetlands, coastal broadleaf forest and regenerating forest cover, before emerging at Te Arai south beach for lunch.
After a short walk along the beach we return via the headland track. Carpool. Departs 9.30am, 3-4hrs, $20.00