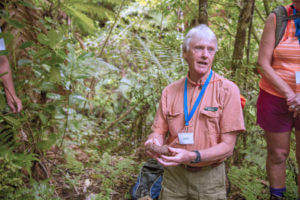 An energetic bush walk over private covenanted land in the Brynderwyns where extensive trapping has enabled the release, and successful breeding, of Northland brown kiwi since 2013.
Learn about Marunui's conservation work and kiwi care and brush up on your knowledge of native flora in the company of an experienced botanist. A great opportunity to appreciate the special values of mature bush – northern rata, nikau, puriri, kauri, climbers and epiphytes and various native birds.
There are reminders of kauri logging days and Maori habitation and from Pa Hill you can enjoy expansive coastal and rural views. The walk concludes with afternoon tea.
Degree of difficulty: Walking on tramping tracks. A few steep climbs and stream crossings. A good degree of fitness required.
Grade 4: Max 20 walkers
Equipment: Boots essential. A walking pole if you normally carry one. Bring morning tea, lunch and water. Afternoon tea provided
Transport: Carpool from/to Domain
Registration time: Saturday 8.20am
Duration from/to Domain: 6-7hrs
Cost: $25.00