Add to my favourite walks
2019 is the 20th anniversary of the annual Mangawhai Walking Weekend.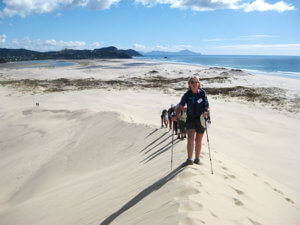 It was conceived as an opportunity to encourage the community to get out and enjoy our wonderful outdoors, and to provide a stimulus for the business community by holding an event that would attract visitors at the end of the summer season. The Weekend has, and continues, to meet these twin objectives.
Next year's event will be a celebration and will feature some of your favourite walks, both short and long, together with the fabulous entertainment of the Troubadour Trail and Food & Wine Festival. Look out for the full programme published on 1 December on www.mangawhaiwalking.co.nz . Bookings will open 4 January 2019, with the event running from 28 to 31 March.
Many of the events are likely to sell quickly, so we encourage the community and our long-terms supporters to get in and make their bookings early.
This is a community driven event. The organising team extends a welcome to members of the community who are able to assist in organising, or to help out on the day. Please contact Dorothy on 431 5950.