Add to my favourite walks
apologies, we have had to cancel this walk due to damage on the board walk
Sat | 8.45am | Grade 3+| Maximum 25 walkers | $30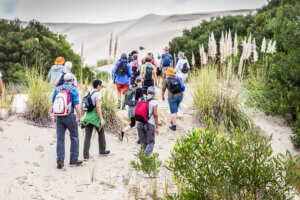 Mangawhai is all about our beautiful estuary and home of the stingrays. This walk takes you on the entire journey from the Heads to the Domain, exploring our estuary walkways.
In early times the estuary was a trading hub with scows regularly visiting the Tavern wharf. We will walk through Ship Builders Bay, where the Daring was built in 1863 before her unfortunate stranding just south of South Head in 1865.
Take in the serenity of the big dune, discover the Moir Point pa site and the Back Bay board walk, walk the esplanade to the historic pub before making your way back to the Domain along Moir St. You will enjoy how much there is to see on these beautiful pathways less travelled.
Degree of Difficulty: Mostly on formed paths/tracks. Some walking on sand, rocks and road. This is a long walk – about 13km. You may get your feet wet!
Equipment: Sturdy footwear
Grade 3: Max 25 walkers
Transport: Shuttle to the Heads
Registration time: Saturday 8.45 am at the Domain
Duration from/to Domain: 5 hours
Cost $30.00 (includes shuttle transport)