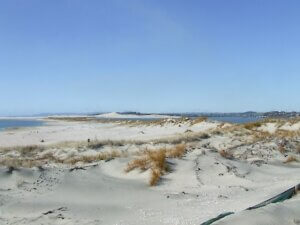 This informative walk is led by volunteers from the Mangawhai Harbour Restoration Society.
Hear the fascinating history of the infamous 'Big Dig' efforts to save the Mangawhai Estuary, the fencing and planting to protect and stabilise the Spit, remnants of the original channel and the continued community efforts to save the critically endangered fairy tern.
This walk is a rare opportunity to be guided across the Mangawhai Spit. This lengthy walk of moderate difficulty will be walking on sand along both the ocean beach and Spit. You will be transported to and from the Spit by boat so a reasonable level on fitness will be required to exit the boat.
Degree of difficulty: Ability to board and exit the boat. The walk is over sand on both the ocean beach and Spit.
Grade 4: Max 20 walkers
Equipment: Good walking shoes suitable for sand. Bring lunch, plenty of water, sunscreen and hat.
Registration time: Saturday 9.00am
Duration from/to the Domain: 5-6 hours
Cost: $30.00