Add to my favourite walks
SATURDAY & SUNDAY GRADE 3 – max 12 people: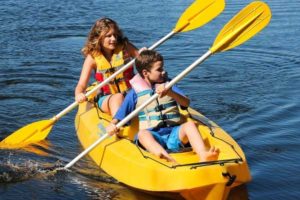 Enjoy breath-taking views and heaps of fun on this spectacular two hour guided kayaking tour.
Explore the Mangawhai Harbour from the North Avenue boat ramp through to Picnic Bay then across the harbour to the sand spit, followed by further exploration of the inner harbour with Aotearoa Surf Guides.
Hear the history of Mangawhai – from the early Ngati Whatua inhabitants, the Nga Puhi wars, European settlement, through to the more recent but historic 'Big Dig' and our current Harbour Restoration Society activities.
Suitable for first timers or the more experienced. All equipment provided.
"Great to be on the estuary, lots of fun, excellent guides" – last year participant.
Important: A limited number of double Kayaks are available to first in otherwise single person kayaks.
Degree of difficulty: Reasonable fitness needed but instruction provided.
Equipment: Suitable water sports clothing, sunscreen, water, waterproof footwear, warm change of clothes.
Carpool: Assembly time 1.00 pm, 2 hrs, $65.00
[wds id="10″]