Add to my favourite walks
Press release: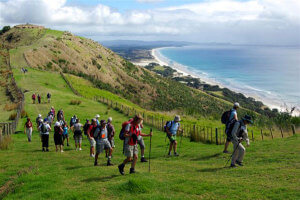 The weeks have been busy for the new Mangawhai Walking Weekend organisers. Thanks to the brilliant vision and tenacity of originator Jean Goldschmidt back in 1999, the weekend continues to grow with new walks, new ideas and new volunteers.
What was established by a team on 'one' and a few enthusiastic friends has become an outstanding legacy for the Mangawhai community.
Now in its 16th year, the weekend now comes under the auspices of the Mangawhai Walking Weekend Charitable Trust. This is to ensure the work that has gone on before safely continues its momentum into the future, bring visitors into our community, creating a weekend to have fun, make new friends and most of all to explore our magical slice of Northland.
Bookings can be made online from that date, with three new exciting walks featured. There will be information about the weekends programme, with walks for all to enjoy.
Mangawhai Walking Weekend however is more than walking – join in some of the other festivities:
Friday afternoons Troubadour Trail, an estuary amble with music and magic.
The Art Trail over the weekend
Saturday's Food & Wine Festival will continue with delicious food and wine from our wide range of local growers and food providers plus great music and dancing in the late afternoon sun.