Add to my favourite walks
Note it in your diary NOW 27-28 March 2021
Book accommodation NOW
Bookings open 19 February 2021
We are very excited about the upcoming Mangawhai Walking Weekend after our 2020 break, so let's hope NZ keeps safe and we can all get together in March 2021.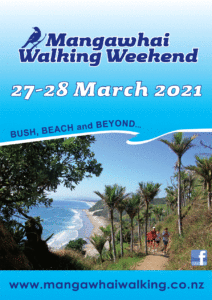 Our 2021 walk programme is now available to view on our website. The event will be smaller this year with 8 walks on Saturday and 5 on Sunday.
Join us for our Beach, Bush and Beyond explorations around beautiful Mangawhai.
There are two new walks focussed on the estuary and several of the regular popular walks have been refreshed.
With the unknown regarding future Covid restrictions, organizing events brings new dilemmas which are all interesting for the organisers!
So for this reason bookings will open on Friday 19 February, just 5 weeks before the event. In the event of a move out of Level 1, we would be required to cancel the event and bookings will be refunded.
This year we are using a new booking system through Eventbrite which we hope will make it easier for everyone, this will also go live on 19 February.
No need to worry about missing the date, we will be in touch with reminders before Friday 19 February.
So walking friends, let's get ready to go walking!
Trish Whyte 0274 295 306
Chair Mangawhai Walking Weekend