Add to my favourite walks
The Mangawhai Tracks Trust has announced the completion of a new walking track as part of the Tanekaha complex just off King Road in Mangawhai. These walks can be walked all year.
The Puriri Track branches off the Falls Track just before the first waterfall and is well signposted.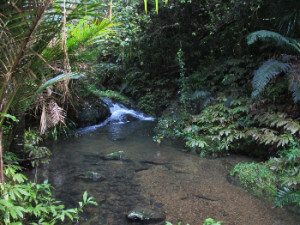 The track follows the old paper road up a side stream for a few hundred metres before climbing above the valley. It roughly follows the contour, rising and falling to re-join the Falls Track about 100 metres below the kauri dam.
The track passes two spectacular puriri trees estimated to be over a thousand years old, provides a wonderful distant view of the waterfalls, and dives in and out of several beautiful forest glades.
A Puriri/Falls track loop is expected to be one of the most popular walks this summer, with a short side trip to the kauri dam. Clear streams, shady tracks, and spectacular forest, what more could a walker ask?
The walk is 3-4 hours
This article first printed on Mangawhai Focus – read it online