Add to my favourite walks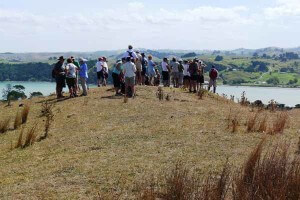 GRADE 2/3 Max 35
We meet two women thwarted in love as a little section of Kaipara history is revealed.
Tucked onto the harbour edge, behind Kaiwaka, our visit will bring to life the landscape that influenced novelist Jane Mander, who wrote 'The Story of a New Zealand River'' (recommended prior reading). Further up the peninsular we learn about the historic Gittos family, original missionaries, and visit their house little changed from 1866. As there are a number of 'rustic' stiles and fences, plus steeper pitches walking up the clear grass ridges to the pa site, some agility is required. Excellent views from the top.
With a delicious afternoon tea

An extra special afternoon tea is included, with proceeds to the local foodbank.
Degree of difficulty: Largely easy walking across rolling farmland with some gentle climbs.
GRADE 2/3 Max 35
Equipment: Good walking shoes or boots suitable for wet pasture. Bring a snack, lunch and water.
Car pool: Assembly time 8.45am, 6 – 7hrs, $35.00