Add to my favourite walks
Hello from sunny Mangawhai…we are all set to go..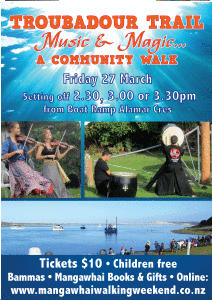 Friday be entertained on the Troubadour Walk at 2.30,3.00 & 3.30pm, enjoy music and magic on your estuary ramble, tickets will be available at the boat ramp before your walk, $10.00, children free, ice cream cart onsite too!
Explore Mangawhai on your selected walk; every walk is a great one!
Saturday there is a huge gathering at the Olive Grove for the Mangawhai Food and Wine Festival, flags ready to fly, music, dancing all organised and delicious food, wine and boutique beer to enjoy from 3.00-7.00pm with the fabulous Mermaids Dance Band.
Pre sales $25.00 gate sales $30.00, tickets at Bammas or Books & Gifts
See you in sunny Mangawhai this weekend, safe traveling from all of us!
PS and there is more…the Mangawhai artists 'Art Trail'