Add to my favourite walks
Sun | 9am | Grade 3+| Maximum 10 walkers |$25
The Jewel in the Tanekaha crown!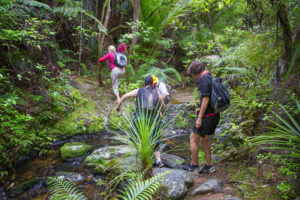 Within the Tanekaha Tracks complex, a network of tracks developed by local volunteers, this walk explores the very best of this native forest clad scenic reserve while avoiding a strenuous climb to the Brynderwyn Ridge.
The first section follows a beautiful stream to the first waterfall, an easy walk with only one moderate hill. From just above the fall it traverses east along the Brynderwyn hills rising and falling along the 100m contour to join the Forest Track which then descends back to the little swing bridge.
On the walk you will see fine examples of mature kanuka, kahikatea, puriri, and tanekaha as well as numerous other native species. You will walk beside a pristine stream, its pools and falls, enjoy some spectacular views all at a leisurely pace on a well formed track. The walk is a grade 3 and will take about 3 hours.
Degree of difficulty: Relatively easy walking along formed tracks with a couple of hilly bits.
Grade 3: Max 20 walkers
Equipment: Boots compulsory. Poles if you use them. Bring morning team, lunch and water.
Transport: Carpool
Registration time: Sunday 9am
Duration to/from Domain: 4–5 hours
Cost: $25.00