Add to my favourite walks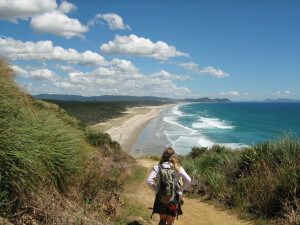 SATURDAY GRADE 2 – max 25 people: More treasures on our doorstep!
Explore Te Arai, a relatively recent addition to the Auckland Regional Park network.
Starting from the Te Arai Point car park we head south over the headland capturing 360 degree panoramic views.
We explore parts of the land purchased in 2008, home to highly sensitive dune lake ecosystems, wetlands, coastal broadleaf forest and regenerating forest cover, before emerging at Te Arai south beach for lunch.
After a short walk along the golden sands of Parkiri Beach we return via the headland track.
"Loved the variety, friendly well informed guides" – last year participant.
Degree of difficulty: Generally easy walking with one short climb up to the headland ridge.
Equipment: Boots recommended but good walking shoes would be fine. Bring m'tea, lunch and water.
Carpool: Assembly time 9.00am, 3-4 hrs, $25.00