Add to my favourite walks
SATURDAY & SUNDAY GRADE 4 – max 20 people: Waipu at its best – a fabulous coastal walk!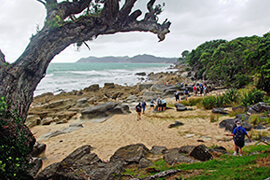 Built by the Lions Club and beginning at the Waipu Cove tidal stream, this magical track takes us along the coast almost into Lang's Beach.
A portion covers private 'riparian rights' along the esplanade reserve. To avoid disturbing the natural landscape, the track is rough and narrow so this walk is best suited to the reasonably fit.
Be prepared to be blown away by the magnificent coastal views and impressive sedimentary limestone rocks, gorgeous wee sandy bays and rugged and beautiful rock outcrops.
Some road and beach walking included. Camera essential!
"Great guides, beautiful sights, informative" – last year participant.
Degree of difficulty: Some rough uneven sections and suited to reasonably fit folk, but no steep climbs. Track can be muddy in places.
Equipment: Boots or strong walking shoes recommended, walking poles useful. Bring m'tea, lunch and water.
Carpool: Assembly time 8.30am, 4-5hrs, $25.00