Add to my favourite walks
Sat | 9am | Grade 3| Maximum 35 walkers |$45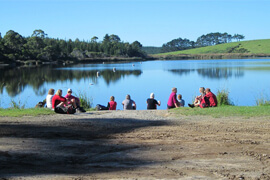 Discover the serenity and isolation of Tomarata before arriving at the remote and South Te Arai (Forestry) beach.
This mostly flat (except for a climb over the Te Arai headland) beautiful walk takes you from the Lake View Chalets with their clear view of the sand-lakes, Slipper and Spectacle, around Lake Tomarata through the former pine forest, and out to the southern section of Te Arai beach (aka Forestry) with its brilliant white sands, wild waves and isolation.
Look out for the sea birds and the memorial seat as we return on the loop track. Walk is subject to Auckland/Kaipara border being open.
Degree of difficulty: Easy walking with a single climb onto the Te Arai headland.
Grade 3: Max 35 walkers
Equipment: Boots recommended but good walking shoes will be fine. Bring morning tea, lunch and water.
Transport: Bus
Registration time: Saturday 9am at the Domain
Duration from/to Domain: 4hrs
Cost: $45.00 (includes bus)