Add to my favourite walks
GRADE 1- Max 20 What's happening behind the 2019 shed doors?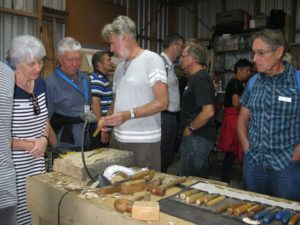 With all new sheds, open the door to see what's inside! Visit some Mangawhai sheds where some good keen locals indulge in their passions. We had Sheilas come along last year and are welcome again but remember no talk of babies, cooking or dressmaking in the blokes sheds!
"Great variety, all interesting & informative" – last year participant.
Degree of difficulty: Very easy, bus transport between sheds.
GRADE 1- Max 20
Equipment: Good covered shoes – no jandals. Bring lunch and water.
Bus transport: Assembly time 8.45am, 4-5hrs, $35.00