Add to my favourite walks
Sat | 9.15am | Grade 3+| Maximum 25 walkers | $25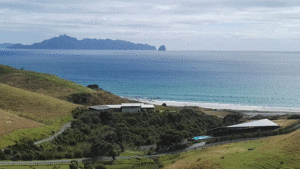 Enjoy a guided tour of this working farm and gated community. The farm is 450ha, half of which is native bush and half a sheep and beef farm, with stunning coastal views and a long history. The walk is a rare opportunity to see behind the gates of a unique property.
From the Surf Club, walk along the surf beach before taking the 200-odd steep steps to the cliff top, enjoying the magnificent coastal panorama before crossing into Bream Tail Farm. The bush walk highlights some wonderful native specimens, while the pā site and trig offer great history and photo opportunities but be prepared for a couple of 'tough' climbs. You then walk within the farm, enjoy a complimentary afternoon tea before returning to the beach and surf club.
Owners of the property will lead the walk to share the property's history, how it is managed and their efforts around conservation. The property is unique as it is the first mainland stop for native birds coming from predator-free islands including Taranga and Marotiri (the Hen and Chickens) and Hauturu (Little Barrier Island).
---
Grade : 3+
Degree of difficulty: Approximately 6 km of steady trekking, with some steep climbs although on well-formed gravel (slippery) roads and paths. Includes a walk on sand along the beach.
Equipment (What to bring: Sturdy footwear, good ankle support. Walking poles. Bring morning tea, lunch, water.
Meet up time: 9.15am Saturday at the Domain
Transport to/from start of walk: Carpool
Duration to/from Domain: 5 hours
Cost: $25